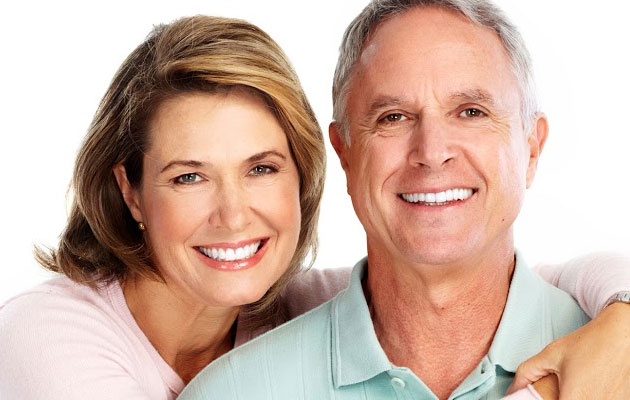 "Extremely kind…very safe in his hands…very knowledgeable"


"So pleased…wouldn't know they weren't my real teeth!"


"Painless. extremely competent…very high standard"

Dental Implants
A smile is often the first thing that connects you to another person and makes that all important first impression. If your smile is letting you down then you might want to seriously consider dental implants.
So what is a dental implant?
A dental implant is one of the best options for replacing missing teeth. Whether a tooth has fallen out naturally or been removed because of decay, both the root and the visible part of the tooth are lost. A dental implant is a cylindrical or tapered post, usually made from titanium, that is inserted into the jawbone and which acts as a permanent and strong platform for replacement teeth. An implant can replace just one missing tooth or be used in conjunction with a bridge or denture to support multiple teeth.
Teeth that have been restored with dental implants look, function, and feel just like natural teeth and require daily brushing and flossing as well as regular visits to the dentist for cleaning and check-ups. With dental implants you'll have the confidence to smile, eat, talk, play, and laugh without giving your teeth a second thought.
How dental implants work
Dental implants are suitable for all ages from teens to OAP's and may be the best choice for anyone missing one tooth or several teeth due to disease, injury, illness or decay. During an initial consultation, Harvard trained prosthodontist Dr. Sonny Oke will assess your needs, health and dental background to determine whether you are a suitable candidate for dental implants. If you are, then a treatment plan will be drawn up.
The dental implant process involves several stages, namely:
X-rays or a CT scan to check that you have sufficient bone depth to place an implant
Surgery to place the implant into the jawbone
A healing process to allow the implant to fuse naturally with the jaw bone to form a sturdy, long lasting platform for your replacement teeth. This can take a few weeks or months depending on the individual.
Once the implant has bonded with the bone, an abutment or small connector will be secured firmly into place on top of the implant and will be used to connect the replacement tooth or teeth to it
Finally, an individual tooth, bridge or denture holding multiple teeth is then connected to the abutment
Dental implants can change your life and once your mouth has been restored you'll never stop smiling. To find out more about dental implants or to book a consultation appointment, please call on 01923 817942. Dr. Sonny Oke and his team are standing by to help.