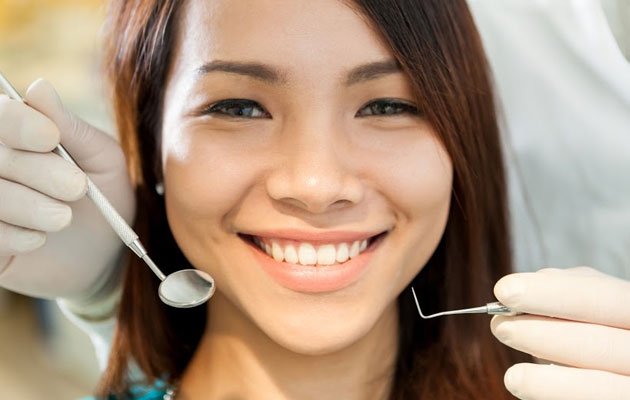 "Extremely kind…very safe in his hands…very knowledgeable"


"So pleased…wouldn't know they weren't my real teeth!"


"Painless. extremely competent…very high standard"

Inlays and Onlays
Inlays and onlays are restorative treatments for rear teeth which are moderately decayed, or for cracked teeth where the damage isn't sufficient to warrant the use of a crown. If you're looking for a Harley Street dental clinic, then a visit to Dr. Sonny Oke can determine whether inlays or onlays are an appropriate treatment to restore the beauty and health of your teeth.
Inlays and onlays are typically made from tooth coloured materials such as porcelain or synthetic resin and occasionally gold. The resin or porcelain is colour matched to your natural teeth for a seamless blend.
What is the difference between inlays and onlays?
Inlays are a procedure which is used to treat decay on the centre of the cusps or raised structures which make up the biting surface of rear teeth. Onlays, whilst being a similar treatment, are used in cases where the decay is more extensive and the fabrication covers or or more tooth cusps.
The benefits of inlays and onlays
Natural tooth colour which makes them look almost invisible compared to the old style metal fillings
Unlike metal fillings, inlays and onlays won't contract or expand when they come into contact with temperature, which makes for a great fit
Inlays and onlays are amazingly durable and can last for up to 30 years which far exceeds that of any other type of tooth filling
Inlays and onlays only require a minimum removal of the surface area while preserving the maximum amount of healthy tooth in order to restore the damaged or decayed area
So, how's the procedure carried out?
Typically both an inlay or an onlay will require two visits to the dental clinic. During the first visit our dentist will make a mould of the tooth which enables our dental technicians to fabricate your permanent inlay or onlay. You'll be fitted with a temporary cover before you leave to protect your teeth between visits. During the second visit your permanent inlay or onlay will be secured to the tooth.
Inlays and onlays aren't suitable for everyone and sometimes our dentist may recommend a crown as a better option. Why not take the first step to healthier beautiful teeth by phoning 01923 817942 to book a consultation appointment with Dr. Sonny Oke who'll discuss the best course of treatment for you.